A while back I got the a special edition of The Tea Dragon Society in an Owlcrate box, I absolutely loved it. So when The Tea Dragon Festival was available to request on NetGalley, I jumped at the chance! Today I'll be reviewing both of them.
rep: multiple characters of colour, multiple LGBTQ+ characters, disabled character
---
---
synopsis:

From the award-winning author of Princess Princess Ever Aftercomes The Tea Dragon Society, a charming all-ages book that follows the story of Greta, a blacksmith apprentice, and the people she meets as she becomes entwined in the enchanting world of tea dragons. 

After discovering a lost tea dragon in the marketplace, Greta learns about the dying art form of tea dragon care-taking from the kind tea shop owners, Hesekiel and Erik. As she befriends them and their shy ward, Minette, Greta sees how the craft enriches their lives—and eventually her own.
---
I fell in love with this graphic novel when I first laid my eyes on it. Not only is it about dragons, but the art is absolutely amazing. The story is divided into five parts, it follows a story through the seasons and eventually ends with an epilogue.
It starts with Greta who saves this adorable Tea Dragon. Now Tea Dragons are not like these mean dragons like Smaug, but they're small and grow herbes and leaves on their horns. Greta returns the Tea Dragon to Hesekiel and ends up taking care of it, learning so many new things and especially about the Tea Dragon Society. Hesekiel and Eric, his husband, are the last members of this society.
And then she also meets Minette, who can't remember things like she used to. From then on the story unravels and it's absolutely amazing. It's all about friendship and finding your place. It's about being happy. The art definitely had a big part in establishing the friendly setting. It's really simple, yet is able to convey such tough emotions.
And then at the end there's an explanation of all the Tea Dragons, which is just adorable and I seriously need one of each.
---
---
synopsis:
Rinn has grown up with the Tea Dragons that inhabit their village, but stumbling across a real dragon turns out to be a different matter entirely! Aedhan is a young dragon who was appointed to protect the village but fell asleep in the forest eighty years ago. With the aid of Rinn's adventuring uncle Erik and his partner Hesekiel, they investigate the mystery of his enchanted sleep, but Rinn's real challenge is to help Aedhan come to terms with feeling that he cannot get back the time he has lost.
---
Almost two years after The Tea Dragon Society, Katie O'Neill returns with a book twice as thick. Over 136 pages a new story is laid out which is just as precious as her first book.
The story starts off with an explanation of the sign language used in the story. I find it incredibly important that not only a deaf character is included, but they use sign language aswell. It's even further explored in the story. 
The story takes place years before The Tea Dragon Society and I was so surprised to see old characters in this book! This story was a bit different but followed the lives of different people, what they were doing and where life was going to take them. Whether that's with a person they love, a place they can live their life or maybe what work you'll do to live the life you want. 
"Just because something comes easily to you, does not mean it has no value. You find it effortless because you love it, and that is why it is your gift."
It was endearing and funny and thoughtful and sweet. It was everything I wished for. The Tea Dragons were such an addes bonus. The Mountain Chamomile! I really relate to it. Just look at this precious thing!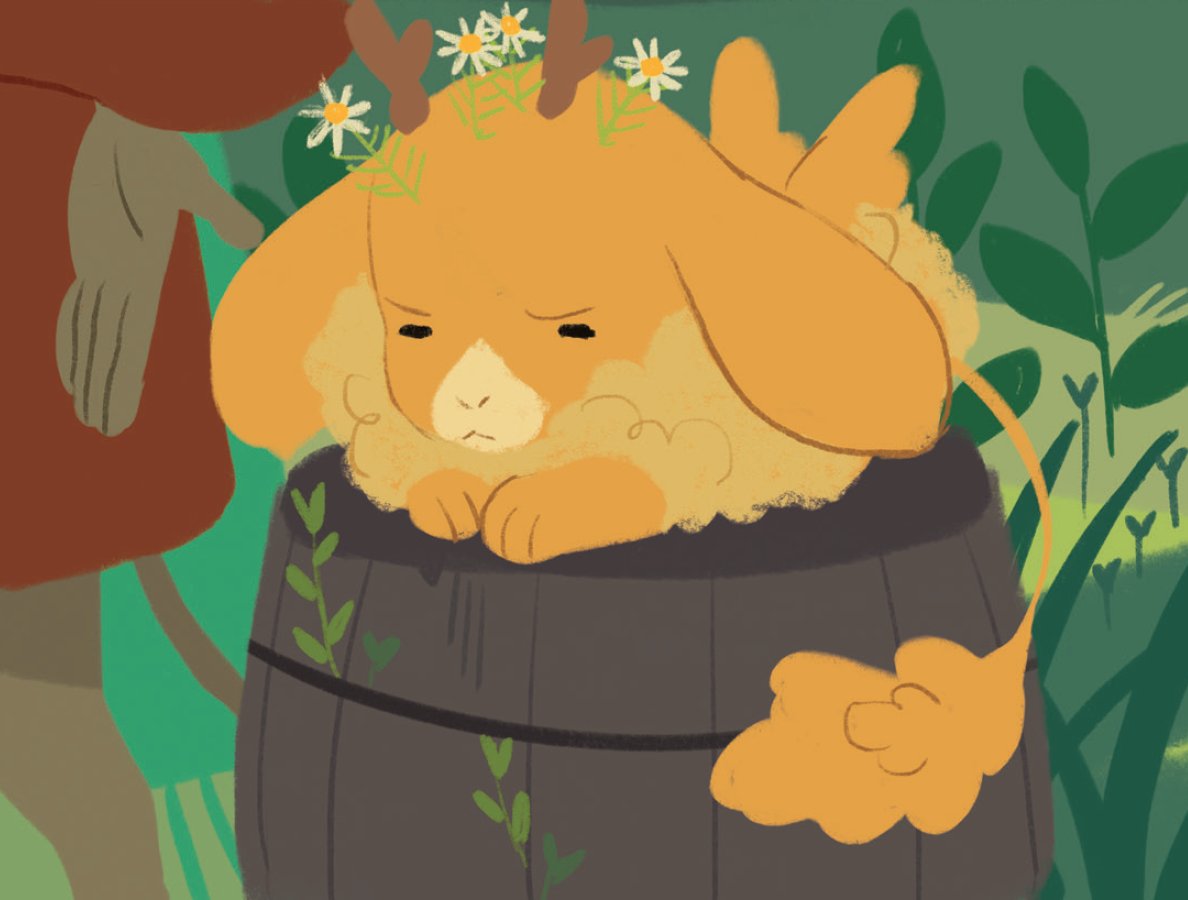 At the end of the book there is a short explanation about the different Tea Dragons in the story and a note about the differences and similarities between Dragons and Tea Dragons. It's just something I didn't expect. I knew the explanations regarding the Tea Dragons was in the first book aswell, but I was still surprised. Happily so, as it's just an extra bonus. More artwork for me to fawn over! 
---
Even though the books are thin, the story and the artwork definitely make up for it. If you're able to get these books, or request them in your library, please do. I promise you you will love it as much as I do!